Jobs and the Economy
Congresswoman Trahan grew up in a working family in Lowell, Massachusetts. Her father was a Union Ironworker and her mother worked multiple minimum-wage jobs while raising her and her three sisters. Like so many across the Commonwealth, they lived paycheck to paycheck and felt the tight grip of economic anxiety. Congresswoman Trahan believes it's time to stop putting corporations and special interests above the needs of workers and their families and finally build an economy that works for everyone.
Bipartisan Infrastructure Law
Ensuring economic stability, strengthening our global positioning, and investing in good-paying union jobs are all facets of the Bipartisan Infrastructure Law Congresswoman Trahan voted in favor of. Passed in November of 2021, this legislation will sustainably produce millions of good-paying, family-sustaining jobs over the next decade.
CHIPS & Science Act
Congresswoman Trahan voted for the CHIPS & Science Act, signed into law in August 2022. The law made significant investments in research, development, and technology to ensure the US remains competitive on these fronts. The law increased the production of semiconductors, in turn creating a more reliable and equitable economy. Investments made in STEM education for K-12 schools, colleges, and universities allow more people to participate in the good jobs that will be produced by these economic developments.
PRO Act
Congresswoman Trahan comes from a union family, a union town, and a union state. That is why she was an original cosponsor of the Protecting the Right to Organize (PRO) Act. This legislation, which passed the House in March 2021, protects the basic right of all workers to join a union. It penalizes companies and executives that violate workers' rights, closes exploitative loopholes utilized by corporations, and strengthens workers' collective bargaining rights.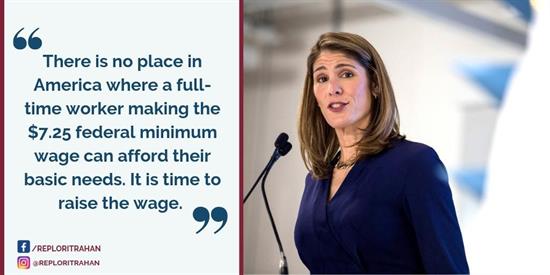 Providing Relief after COVID-19

Small businesses across the Third District are the hearts of our communities — and they're also some of the organizations hit hardest by the pandemic. Congresswoman Trahan voted to pass the American Rescue Plan of 2021, which provided relief for small businesses by increasing Paycheck Protection Program funding, funding grants through the Economic Injury Disaster Loan program, and investing in small business financing through state government programs. She also supported the passage of the Paycheck Protection Program Extension Act, which extended the highly successful PPP program and enabled small businesses to continue accessing much-needed financial relief.
Prior to that, the passage of the Coronavirus Aid, Relief, and Economic Stimulus (CARES) Act allocated $350 billion in loans for small businesses through the Paycheck Protection Program. Congresswoman Trahan also voted to pass the Paycheck Protection Program and Health Care Enhancement Act, which strengthened the Paycheck Protection Program through an additional $310 billion in funding.
Additional Supported Legislation
Childcare for Working Families Act*
Protecting the Right to Organize (PRO) Act*
Federal Employee Paid Leave Act
Never Forget the Heroes: Permanent Authorization of the September 11th Victims
* indicates the Congresswoman is an Original Cosponsor of that legislation.