Voting
Ensuring equal access to the ballot box is fundamental to any functioning democracy, and that right has been fought for throughout American history. We, as a nation, have come a long way in expanding the right to vote, but voter suppression still disproportionately targets our most vulnerable populations and disenfranchises millions, especially with the gutting of the landmark Voting Rights Act of 1965.
Congresswoman Trahan knows that true democracy is only achieved when every American is able to participate in it. She is committed to restoring the Voting Rights Act in full and building on its progress to make voting more accessible for all Americans.
Access to the Ballot Box Amid COVID-19

Congresswoman Trahan believes the federal government has the responsibility to provide states and localities with the resources necessary to protect the health of their citizens while also protecting access to the ballot box during this public health crisis. This is why Congresswoman Trahan is strongly in favor of nationwide vote-by-mail throughout all elections that occur during the COVID-19 pandemic, creating accessibility for all Americans to have their voice heard.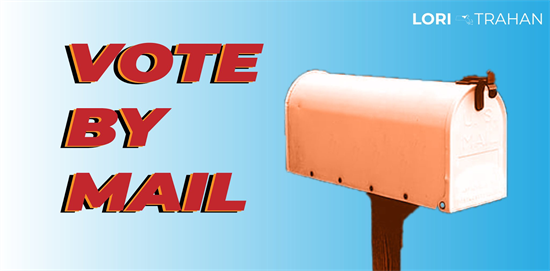 John R. Lewis Voting Rights Advancement Act of 2021
Congresswoman Trahan voted to pass H.R. 4, the John R. Lewis Voting Rights Advancement Act, much needed legislation she cosponsored to restore key provisions of the Voting Rights Act of 1965 (VRA) that were gutted by the Supreme Court in the 2013 Shelby County v. Holder and 2021 Brnovich v. DNC decisions.
Passage of the John R. Lewis Voting Rights Advancement Act gets us one step closer to securing the foundation of our democracy. By restoring and strengthening the VRA, we'll once again ensure that every American, regardless of their race or ethnicity, has an equal voice at the ballot box.
Vote by Mail Advancements in Massachusetts
Massachusetts Governor Charlie Baker signed legislation passed by the State House and Senate providing the option to all registered voters in the Bay State to vote-by-mail in the primary and general elections. Congresswoman Trahan believes Americans should never have to choose between protecting their health and participating in our democracy. She will continue to support measures that ensure safe access to the ballot box nationwide.
For the People Act
Congresswoman Trahan secured House passage of two amendments to the For the People Act: a provision enhancing ballot access for the families of our brave servicemembers in uniform and a provision prohibiting the agents of foreign governments from exercising influence over the drawing of new congressional districts.
The For the People Act, will help to restore Americans' trust in the political system by implementing automatic voter registration across the country, expanding early voting, banning voter purges, strengthening disclosure requirements for political campaign expenditures and donors, and fortifying ethics laws by requiring presidential candidates to disclose their tax returns.
SAFE Act
Congresswoman Trahan is a proud sponsor of the Securing America's Federal Elections (SAFE) Act. The SAFE Act mandates strict cybersecurity standards for election technology vendors and voting systems, ensuring that voting machines are manufactured in the US. This bill also requires post-election audits that help detect inaccuracies to strengthen election integrity.